Bullish/Bearish Patterns
To Look For on Candlestick Charts
By David Vomund
During our AIQ seminars, we find many effective trading techniques being used by attendees. This month we are pleased to present an interview with Nicolas Williams, an AIQ power user from Florida. Mr. Williams combines Japanese Candlestick charting analysis with indicator readings in his investment approach. He is a retired chemical engineer and now trades stocks to supplement his income.
Before we begin with the interview, we will briefly review Candlestick analysis.
Most people use bar charts in their analysis. Candlestick charting is simply another means of charting price activity. Whereas bar charts emphasize the high, low, and closing price, Candlesticks place great importance on the opening price as well as the high, low, and closing price. Since the opening price is of great importance, Candlestick patterns offer unique signals often not recognized with traditional bar charts.
The Candlestick consists of a body and a shadow. The body is defined by the open and close. If the close is above the open, signifying that the bulls have pushed the stock up, the Candlestick body is white. If the stock closes below the open, indicating bearish sentiment, the body is black.
The shadow, drawn as a line extending above and below the real body, is determined by the high and low price and resembles the Candle's "wick," hence the name of the chart (see Figure 1). On the Candlestick charts, there are several patterns to look for which signify bullish and bearish conditions. TradingExpert's Technical Indicator Reference Manual has a good desciption of Candlestick construction along with patterns to look for beginning on page 86.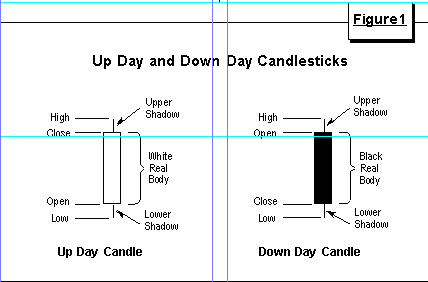 To learn more about Candlestick analysis, refer to Steve Nison's two books, Japanese Candlestick Charting Techniques and Beyond Candlesticks. For a catalog of investment books, call Traders' Library at 800-272-2855. Let them know you are an Opening Bell subscriber and you will receive a 15% discount for Mr. Nison's books.
Our interview with Mr. Williams follows.
Vomund: Thank you for giving us input on your trading strategy. Why do you use Candlesticks?
Williams: Most people use technical indicators to forecast activity. Bar charts are then used to simply tell you where the stock has been. By combining the indicators with a few basic Candlestick patterns, you can enhance your trading. One Candlestick that is very easy to spot has a long body. Another is one with long shadows. With the market on a confirmed buy signal, a long white Candlestick at or near the lower Bollinger Band should command your attention for a possible buy. The reverse is true for a large black Candlestick at or near the upper band.
Vomund: What type of stocks work best with Candlesticks?
Williams: Candlesticks work well for high, medium, or low priced stocks. They also work well for stocks having high, medium, or low average volume. I often concentrate on the low capitalization stocks. The low-cap stocks are often not considered by portfolio and fund managers who have huge sums to invest. This is an area where the small investor using AIQ plus Candlesticks can win.
Vomund: Do you use Candlesticks for overall market timing?
Williams: Yes. One Candlestick pattern mentioned in Steve Nison's book is the Spinning Top with long shadows. Spinning Top Candlesticks have small real bodies. When this pattern is accompanied by high volume, it indicates accumulation or distribution depending on the price level. An excellent example of this occurred on July 16, 1996. The Dow Jones Industrial Average and no fewer than 15 of the 30 Dow stocks exhibited a Spinning Top at or near the lower Bollinger Band along with high volume (Figure 2). AIQ issued an Expert Rating buy signal of 99-1 on July 12, and a few days later the Candlesticks were screaming to buy. At the same time, the 9-day Stochastic moved above the 20 level and the 14-day Commodity Channel Index (CCI) crossed above -100 two days later, thus confirming the move.
Vomund: Can you give us an example of how you use Candlesticks on stocks?
Williams: A great example of how easy it is to spot bullish patterns is found on the IBM chart on July 25 (Figure 3). On that day, there was a very large white Candlestick with high volume. The prior day was a 21-day low but both the 9-day Stochastic and the 14-day CCI crossed above their oversold lines. While there were no high Expert Ratings and the Candlestick reached the upper Bollinger Band, there was a huge Window (price gap). The chart signaled a buy and IBM never looked back.
Another fairly long white Candlestick, also at the upper band, came on September 13, which should provide support for a future decline. A warning sign for stocks occurs when they break below a long white body.
Vomund: Thanks for sharing your techniques with us.
Back to hints and tips