Use a Disciplined Sell Strategy to Avoid Being Swayed by Emotion

By David Vomund

O

ne of the toughest elements of trading is deciding when to sell. People agonize and second guess themselves over sell decisions more than they do for buy decisions. Yet, it does not have to be this way.

The time to decide when to sell is before you make the purchase. That way, emotion does not play a role in your decision process.

The AIQ Profit Manager helps in this regard because when you enter a new position it requires you to select a sell strategy. Unfortunately, many investors deviate from their original strategy and sell for other reasons. People generally sell too early based on two factors, impatience and emotion.

When we purchase a stock, we want it to immediately increase in value. Unfortunately, the market does not always adhere to our wishes.

"The time to decide when to sell is before the stock is ever purchased. That way, emotion does not play a role in your decision process."

In the December 1996 Opening Bell, I discussed how stock investing was a game of probabilities. I named two stocks that were purchased in August for the same technical reasons. The stocks were Conseco Inc. (CNC) and Precision Castparts (PCP). In the article, I said one stock worked and one didnít. CNC was a big winner and PCP was drifting sideways as the market moved higher.

At the time this article was written, I was giving up on PCP and labeling it a trade that didnít workout. My patience was wearing down. Yet, the stop strategy that I selected before the stock was purchased was not triggered. PCP came to life this spring. If I had sold when I prematurely labeled it a loser, a 30% profit would have been missed. Be patient, you donít need to outperform the market every week.

The second and more common reason that people sell is based on emotion. This is a mistake. In many cases, people with careers other than those affiliated with Wall Street have an advantage over financial professionals. Wall Street insiders look at the ticker all day and listen to the opinions of other analysts. This outside interference raises emotions and forces them to make sell decisions based on emotion rather than fact.

For example, just as group rotation is turning against you and your stock holdings are losing value, one of the many analysts interviewed on CNBC (have you ever wondered what their track records are?) reports that a critical trendline has been broken. Your stop has not been hit but you sell.

Emotions also come into play when the market is falling. About the worst time to buy stocks this year was in March when the market was entering a swift correction.

In my newsletter VIS Alert, I entered long stock positions in three of the four weeks in March. The positions were Plum Creek Timber (PCL) on March 3, Tyco Intíl (TYC) on March 7, and Smithfield Foods (SFDS) on March 21.

As the market fell, non-S&P 500 stocks lead the downward move. I wanted to undo time and wished the newsletter was listing short positions. Analysts on CNBC told me important support had been broken, we were too irrationally exuberant, and valuation measures were too high.

My emotions told me to switch to cash. My emotions said to sell but my stop levels were not hit and I did not sell. Now each stock has a handsome profit.

What is my stop strategy? I am longer term than the average AIQ user so I keep the stops loose enough to where normal stock fluctuation does not trigger a sell. I achieve this by using a simple trailing 15% stop (see December 1996 Opening Bell). That is, a stock is sold anytime it falls 15% from its high point after the purchase date. (To enter this stop in the AIQ Profit Manager, choose a trailing stop and enter a value of 85).

With loose stops I have essentially decided that I donít want to get stopped out often but Iím willing to accept a larger than normal loss when a stop is reached.

Figure 1

Looking at the Tyco Intíl (TYC) example described above, the AIQ market timing model was on a January 7, 1997 buy signal. TYC was a high Relative Strength stock that had just broken above consolidation. This is best seen on its Point & Figure chart (see Figure 1). The $60 price twice acted as resistance, but on the third attempt the stock broke above this level as seen from the last column of Xs. (Note: The Point & Figure Breakout report screens for triple top buy signals.)
TYCís volume indicators pointed to higher prices as well. Both On Balance Volume and Money Flowwere hitting new highs in concert with the stock price (see Figure 2). TYC was also on a confirmed buy signal (PCL and SFDS were purchased for the same reason, although we bought SFDS on a pullback).
At the time TYC was purchased, a 15% trailing stop was activated. If I bought the day of the high, a 15% loss would have been the result (yes, Iíve done that before!). As the stock increases, so does its stop. TYC will have to fall 15% from its high point before it is sold.
It doesnít matter if TYC receives an Expert Rating sell signal and itdoesnít matter if an analyst on CNBC says it is overvalued. Even if it drifts sideways for a few months, TYC is not sold until the stop is reached (if you buy stocks that are in a trend, they wonít drift sideways for long).
Figure 2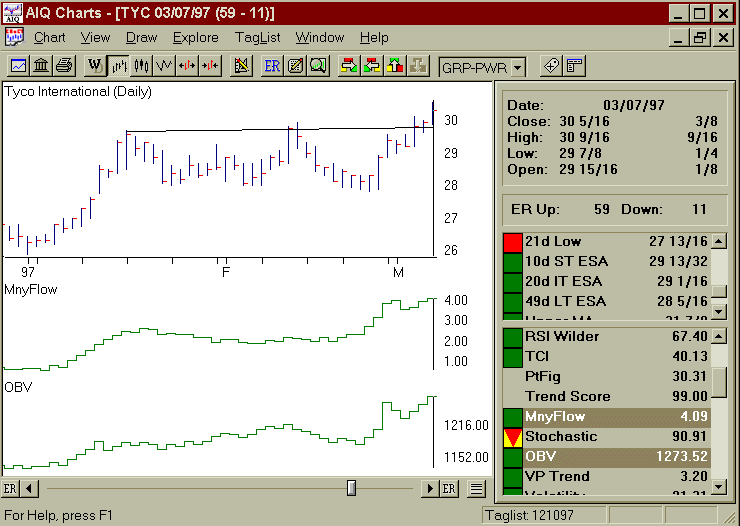 What stop strategy to use is a highly individual decision. The important thing is to use a stop strategy. People who donít have the discipline to follow a stop strategy are typically a step behind the game, selling into weakness and missing the big moves. Rather than leading the Wall Street herd, they are running after it trying to catch up
Back to hints and tips